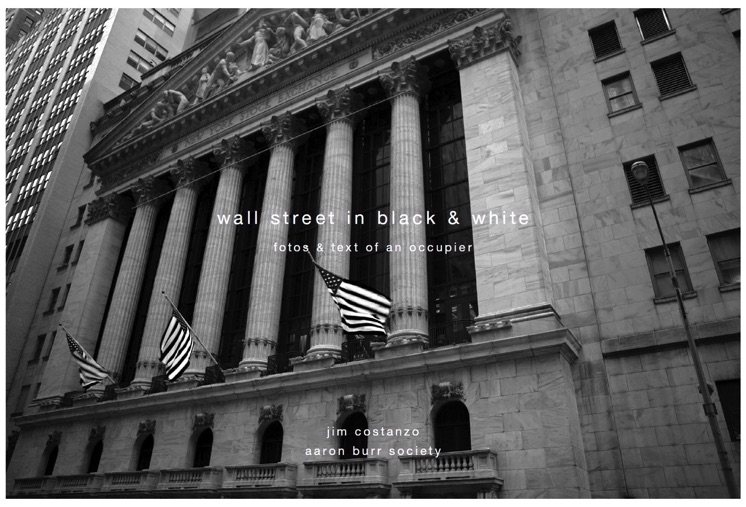 cover of accompanying book to the show . ©2019 Jim Costanzo
artist bio
JIM COSTANZO
BROOKLYN, NEW YORK
Jim Costanzo is an interdisciplinary artist who lives in Brooklyn and teaches at Pratt Institute. He was a founding member of REPOhistory, an artist collective that created site-specific public artworks based on issues of class, race, gender and sexuality.
In 2008 he launched the Aaron Burr Society which is dedicated to exposing the myths of Free Markets and Free Trade while challenging the integrity of Wall Street and their corporate cronies. In 2011 he participated in the Occupy of Wall Street and continues working with the groups that emerged after the eviction from Zuccotti Park. They include Strike Debt, Rolling Jubilee, Making Worlds based on the Commons and Occupy Museums. In 2015 he published an article on the Aaron Burr Society and Occupy Wall Street with the University of Amsterdam's MoneyLab Reader and presented at their conference based on the publication. He also presented at conferences for the Public Banking Institute, Union for Radical Political Economists, the Observatory for Debt and Globalization in Barcelona, Spain and he represented Occupy Museums at a conference at the University of Cambridge, England titled Art • Money • Crisis.
wall street in black & white
fotos and text of an occupier
artist
JIM COSTANZO
a foto exhibition from the book
on view November 2 through 30
gallery hours: Wednesdays, Saturdays, and Sundays, 1-4pm
Through stark, dramatic images of the architecture in and around Wall Street, combined with urgent and layered text, Jim Costanzo highlights the contrasts that continue to be intensified in our country's economic system. The images, often with an air of leering, towering weight, are nearly devoid of living elements: only a few have human figures and these are either in the distance, obscured, or reflected. As though the edifices housing those who have abused and corrupted the system, bending the economy as a tool for concentrating wealth in the hands of a very few at the expense of the rest of the world, have themselves taken silent but powerful control, impersonal and bleak, considering nothing of the future—single-minded in their desire to hoard.
The text, paired with each image, offers further insight into the issues that ferment within current U.S. capitalism, the innate greed and risk of the stock market, and the myriad inequalities that our economic and cultural systems exacerbate. The rhythms of the text echo the patterns and pulsing of the menacing structures pictured. While no solutions are offered, the works attempt to illustrate the complexity and diversity of these present-day struggles, problems that have waxed and waned throughout the entire history of the United States.
The Aaron Burr Society formed in the summer of 2008 as a response to the impending crash of the international financial system. The Aaron Burr Society believes that their namesake's policies on social justice, environmental sustainability, and grassroots, cooperative economics continue to be relevant today.
Jim Costanzo is the founding director of the Aaron Burr Society, he lives in Brooklyn and teaches at Pratt Institute.
–Jane Gordon